Farm Purchase Due Diligence (DD)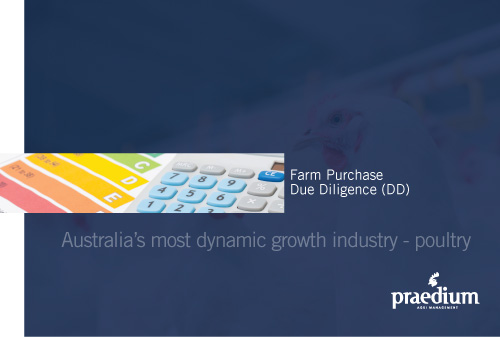 Due Diligence is an absolutely critical component of the agricultural investment process. When you're buying an existing broiler farm, you're buying a business not just a property. You're also buying farming history, infrastructure, access to market, development/diversification potential, and a whole range of other attributes.
We examine the critical elements of a purchase that may not be apparent to others outside of the poultry industry.
Our capabilities with regard to Due Diligence include:
Water resources
Infrastructure and equipment assessment
Detailed climate assessment
Management and Production history
Existing contracts and renewal options
Assessment of labour capabilities and requirements
Opportunities for diversification
Farm opportunity and future capabilities
Management recommendations
Economic assumptions
Capital expenditure assumptions for the next 3 years post-purchase
Important farm disclosures
Comparison against other poultry properties currently on the market